Our #WAVENEWYORK installation was a centerpiece of NYCXDESIGN's Times Square design festival in May. The "touch and see" experiential installation was designed by Kaynemaile's inventor Kayne Horsham and American artist and MacArthur fellow Ned Kahn.
"We're thrilled to be participating in NYCxDESIGN and bringing #WAVENEWYORK to the Times Square Design Pavilion," said Kayne Horsham, CEO of Kaynemaile. "New York is a global capital of innovation and a leader in the worldwide design community. It is exciting to come from New Zealand to show how our materials bring human touch and joy to hard urban spaces."
"The material is beautiful, the installation design is playful and interactive, and the concept has pure innovation at its core. It's an honor to have Kaynemaile at Design Pavilion 2017." says Ilene Shaw, director and curator of NYCxDesign.
Kaynemaile was thrilled to be a part of this event. Our mission was to "bring freedom and joy to Times Square", to create a sanctuary in amongst the hustle, bustle and lively atmosphere of the city, to encourage the public to have fun and play. It was exciting to be in the eye of 300,000 people per day in Times Square. The active visitors – tens of thousands of people – to #WaveNewYork responded instinctively to the Kaynemaile 'experience' – their minds and bodies knew what to do, and tens of thousands of 'waves' were created. Creatively, #WaveNewYork was massively successful, with mass participation, and truly delivering "freedom and joy".
Here is a video re-cap of the event, our product and what came out of this rewarding experience for us.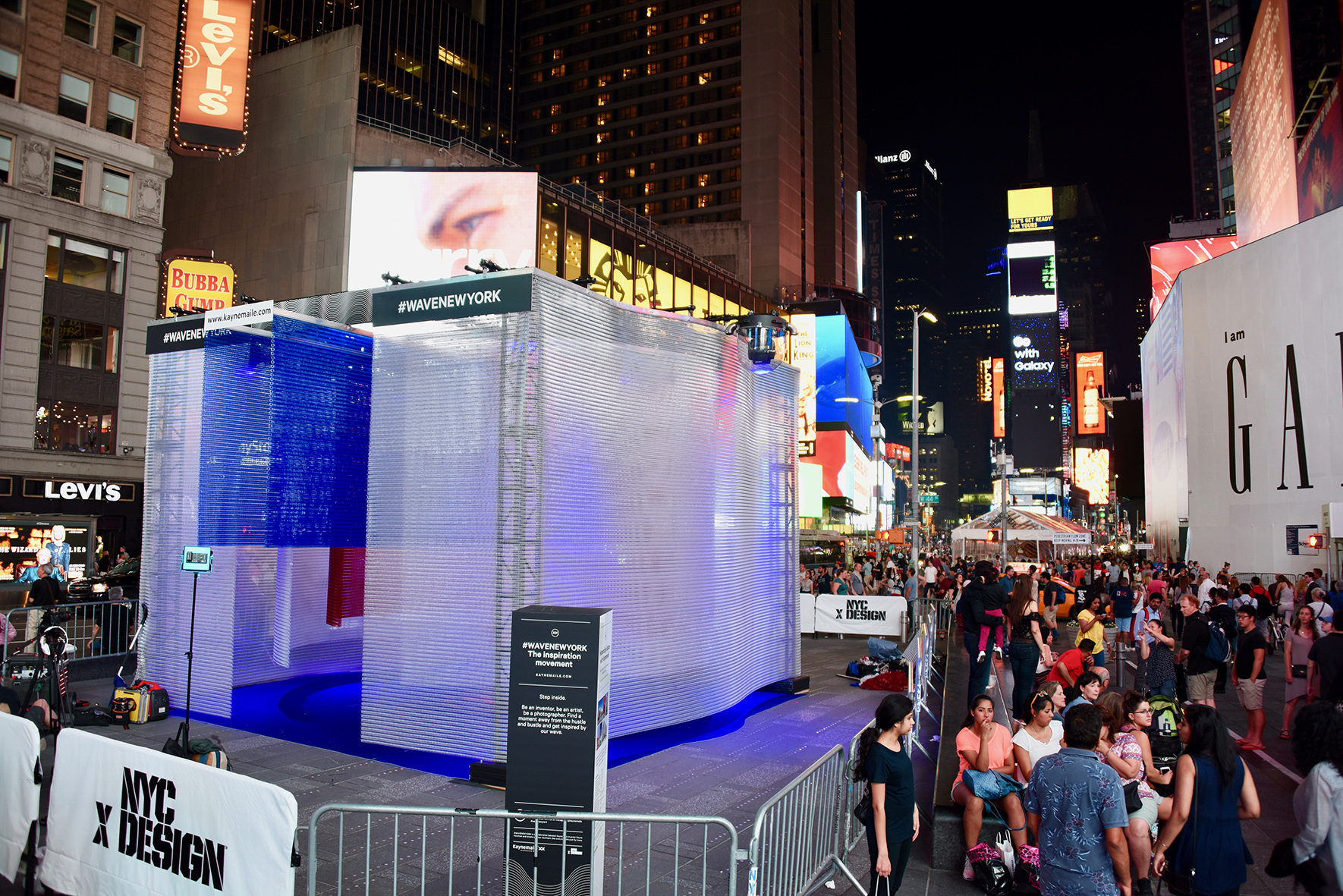 NYCxDESIGN AWARDS 2017
Kaynemaile Awarded Architectural Product of the Year
While in New York, Kaynemaile won Best Architectural Product at the NYCxDesign Awards announced in May. Kayne Horsham, inventor of Kaynemaile, accepted the award at New York's Museum of Modern Art.
This was a huge honor for the Kaynemaile team.